Hi!
My name is Dewi, I'm 22 years old and this'll be my fifth year playing with the CT. After getting a degree in Religious Studies and Philosophy, I'm now doing a premaster Orthopedagogy (Orthopedagogiek). I currently work for
Humanitas DMH as a counselor for intellectually disabled people in forensic healthcare, which I really enjoy. This year I have been asked to be a confidential advisor (vertrouwenspersoon). So, if you ever need someone to talk to, I will be there to listen. You can usually find me at practice, games and other CT events. You can also send me a text message to get ahold of me.
Dewi 🙂
Tell: +31638281859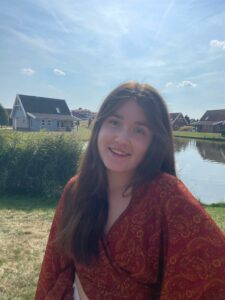 Hi all,
Im Jarne, the goalie of the mens team. Im 27 years old and currently am employed as a PhD student in Chemistry. This is my 5th year at CT, and have been part of the Tournament committee and the Kasco. Next to that, I have been confidant last year and will be this year as well.
Jarne 🙂
Tell: +31648487810