Introductie
Welkom op de website van studentenhandbalvereniging H.V. De Cirkeltijgers uit Groningen. Onze club kent een rijke historie sinds de oprichting in 1963. Op dit moment telt de vereniging rond de 100 leden uit Nederland maar ook uit landen als Duitsland, Denemarken, Spanje etc.
We zijn er trots op dat we de leukste studentenhandbalvereniging van Groningen zijn.
Met een dames- en herenteam in de hoofdklasse, twee damesteams in de regionale en de mogelijkheid om als trainingslid aan te sluiten, zijn er voor de beginnende en ervaren handballer genoeg mogelijkheden!
Er worden vele activiteiten georganiseerd zoals borrels en het bekende Cirkeltijger Toernooi in mei. Hierdoor zijn we een leuke maar vooral ook hechte vereniging!
Neem gerust een kijkje op onze website of bezoek ons Facebook of Instagram account voor de laatste nieuwtjes.
Stuur gerust een mailtje naar bestuur@cirkeltijgers.nl als je vragen hebt. We hopen je snel te zien op het handbalveld!
De eerste training van het seizoen 2022-2023 begint op 23 augustus, de indeling van de trainingsblokken volgt zo snel mogelijk!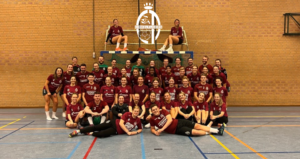 Evenementen
September 22 @ 8:00 am

-

September 24 @ 5:00 pm